Flautist and Woodwind Tutor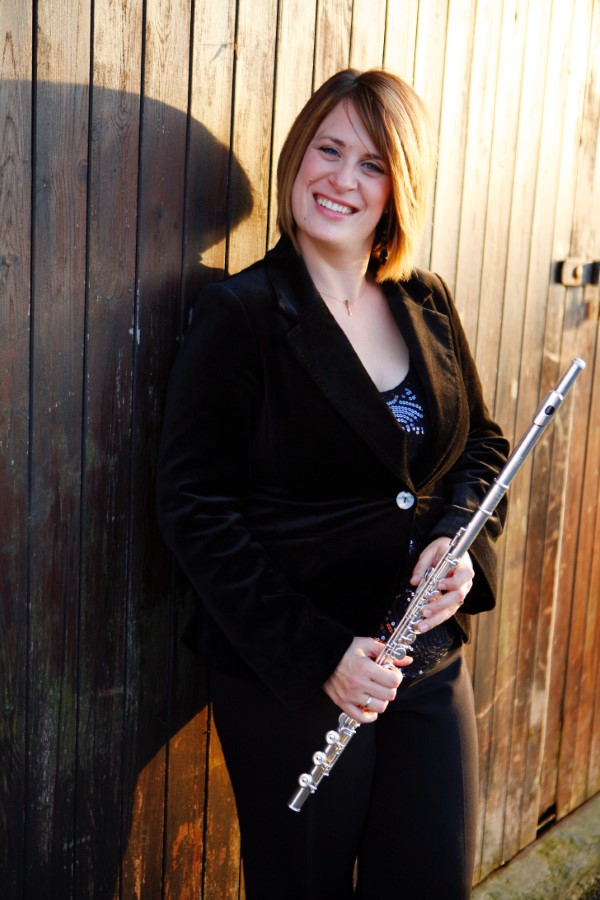 Welcome to the website of flautist and woodwind tutor Michelle Krawiec.

Michelle has always had a strong passion for music; and she now shares this by providing high quality music tuition and performing for varied audiences. 

Please look around and be in touch with Michelle if you require any further information.
Exquisit! When I closed my eyes you transported me to another world.
Thank you for teaching me flute all these years. You are a brilliant teacher and I am very lucky to have been taught by such a talented flautist. Playing my flute has been such a lovely retreat from everything else and thank you for making our lessons so relaxed and fun - encouraging me to enjoy my flute in my own way. You have even managed to make me enjoy performing at the Junior School and in School concerts - quite an achievement!!
Michelle achieves a wonderfully controlled sound from her flute with beautiful vibrato...
Avon and Somerset Constabulary Male Voice Choir
A huge thank you for playing last weekend. 
Your alto flute in particular sounded completely gorgeous!
Thank you so much for your teaching these past years. I have always looked forward to my lessons, and especially enjoyed my recent early morning fluting. I will miss your teaching, with the support you gave, and your "serious jokes" that prepare me for the rest of the day.
I also want to thank you for introducing me to some of my favourite pieces.
I am sure you will not miss my attempts at struggling through my scales, but I will definitely miss the duets we have been playing together recently, the concerts you have organised, and the opportunities you gave me to play to an audience.
This year I volunteered to accompany a choir, alone, in front of a completely full audience. I know that without you as a teacher and the opportunities given to me, I would never have had the confidence to do that, so thank you again.
Thank you so much for all the lovely lessons and playing opportunities you have given her over the years. We have some great memories of lessons, group lessons, workshops, concerts and Suzuki Summer School... Thanks again for your excellent teaching, patience and good sense of humour! She has always enjoyed her lessons with you.
…after a delicate second section it was straight into the finale with a skilful flute solo by Michelle Krawiec standing out from some excellent support by the orchestra.
John Packwood, Bristol Evening Post
Just a few words to say "thank you", for your superb performance at our concert in Dulverton, last weekend. 
Your choice of music was greatly appreciated by the audience, and during this last week, the concert has been the topic of many a conversation, amongst the "locals" in town.
On behalf of the Congregational Church, once again, a big "thank you" to you.
Dulverton Congregational Church
Where do I begin? I wanted to say a huge thank you for the years of support and fantastic teaching you've given me. From my fear of sight reading and my aversion to learning melodic minors, I've hardly been the easiest person to teach, but I can honestly say that you've helped me to achieve a level I never thought possible for myself, and I am sure that I will undoubtedly continue such an enjoyment for playing the flute later into my life. Thank you for your patience!!
Michelle's portrayal of Chloe was simply beautiful. Thank you.
Michelle played three pieces of music during our civil wedding ceremony. 
The choice of music suited the event very well and Michelle's performance was outstanding, we would definitely recommend her for anything similar
The choir was complemented by the beautiful flute playing of Michelle.
Avon and Somerset Constabulary Male Voice Choir
It was amazing and you sounded brilliant!
We were aided by a wonderful flute soloist and her music just floated around the church.
Avon and Somerset Constabulary Male Voice Choir
Thank you so much Avon and Somerset Constabulary Male Voice Choir and Michelle Krawiec for a really special evening of wonderful music at St Mary's in Hemyock last night!
Thank you very much for being such a wonderful teacher these past couple of years, it has been amazing!! Thank you.